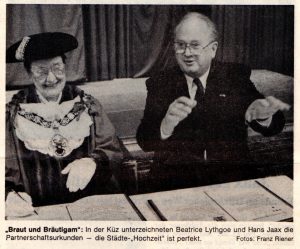 Redcar and Cleveland Twinning Association celebrates 25th Anniversary.
In these days of global unrest and disharmony it is good to know that the twinning of Redcar and Cleveland with Troisdorf in Germany is still going strong. On the 22nd September 1990 the original Twinning Charter was signed by the Mayor of Langbaurgh, Mrs Beatrice Lythgoe and the Mayor of Troisdorf, Herr Hans Jaax. During the following 25 years there have been numerous visits by groups of people –individuals, families and students from this area to Troisdorf and vice versa. Trosidorf is a town with a similar population to our area and is situated close to Bonn and Cologne. Many long-term friendships have been made and much has been learned about each other's culture, language and customs. The central aim of the association is to promote international friendship and understanding through these regular exchange visits.
We would also like to encourage new members to join us too. If anyone is interested in finding out more you can come to our fundraising events or you can get into contact by using the email address below.
A QUARTER OF A CENTURY OF ANGLO-GERMAN FRIENDSHIP.
A QUARTER of a century of Anglo-German friendship has been celebrated as Redcar and Cleveland Twinning Association marked its 25-year anniversary in September 2015.
The Borough has been twinned with the Rhine Valley town of Troisdorf since 1990, and to mark the anniversary a party of 21 visitors from the town, as well as the Mayor of Troisdorf Herr Klaus-Werner Jablonski, joined their counterparts from the region for a week of celebration, which featured a performance from Guisborough's former X Factor contestant Abi Alton.
The majority of the visitors stayed with host families over the week.
Pamela Stenson, chair of the Redcar and Cleveland Twinning Association, has been involved with the link on and off since the very beginning, going on the first visit to Troisdorf in April 1991.
She said: "Most hosts have personal friendships with the families from hosting or visiting them over the years.
"It's not just the same people visiting though, there's always new people coming along on every trip.
"There's one lady, named Eva, who's never been over before and she was entranced by Saltburn in particular – we've had some lovely sunsets."
Kim Arnold, one of the hosts, has been involved with the Association for 14 years.
She added: "The two people staying with us, Loni and Wolfgang, have become good friends since we first started visiting and hosting them.
"We were total strangers 14 years ago but we've since been to birthdays and weddings; we've enjoyed getting to know their family and them us."
Events during the visit included trips to Ampleforth Abbey and Preston Park Museum, culminating in a 25th Anniversary Concert on Friday, September 25th, with the Apollo Male Voice Choir – some of whom travelled and performed on the first visit in 1991.
Redcar and Cleveland Council hosted a celebration night on Wednesday, September 23rd, with both Mayor Jablonski of Troisdorf and Redcar and Cleveland's Mayor, Cllr Brenda Forster, speaking at the event and exchanging gifts, and performances from Abi Alton, Normandy Topline Choir and the Marske Fisherman's Choir.
For pictures of this event see the photo gallery.
You can contact one of our committee members for more information:
Chair – Pamela Stenson:
chairman@redcarandclevelandtwinningassociation.org.uk
Secretary & publicity –:Emma Stephenson
secretary@redcarandclevelandtwinningassociation.org.uk