Troisdorf celebrates twinning.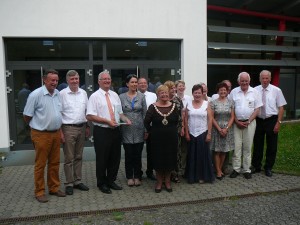 A delegation of committee members and local councillors met in Troisdorf in july to celebrate the triple anniversary of twinning with its partners from Redcar in Cleveland- England ,Genk in Belgium and Heidenau in Germany.
A full day of events were planned starting with a ceremonial signing in the Rathaus followed by a tour of the newly built municipal hall.
From there a light lunch was provided followed by a trip to the local carnival Burgfest this involved a small walk through the town centre in unseasonably warm weather (42 degrees celcius).  A performance on stage from the  group colour was much appreciated despite the hot weather.
In the evening the main event the celebration of the twinning partners took place.
After a reception a full 4 course meal with drinks was provided accompanied by entertainment.
This was followed by speeches and exchanges of gifts from all 3 twinning associations and mayors with additional speeches by the parliamentary representative's for the Troisdorf area.
After the speeches the evening entertainment was concluded by the dance group Altenrather Sandhasen before the delegations boarded the coach to see the firework display at the Burgfest.
A very enjoyable time was had by all and thanks must go to the organisers and staff who made everyone feel so welcome on this very special occasion.
For more photos of this event go to the photo gallery.